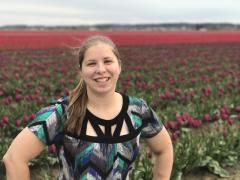 Speaker: Dana Lewis
Principal Investigator & Researcher
After building her own DIY "artificial pancreas," Dana Lewis helped found the open source artificial pancreas movement (known as "OpenAPS"), making safe and effective artificial pancreas technology available (sooner) for people with diabetes around the world. Dana has designed, coded, and tested features for the open source automated insulin delivery algorithm now used by over a thousand people worldwide, in addition to contributing thousands of lines of documentation to the open source diabetes community. She also manages the OpenAPS and Nightscout Data Commons to facilitate increased research and access to rich, anonymized, patient-generated diabetes data, and also built and maintains a set of open source analysis tools to support other researchers. Dana also serves as Principal Investigator for a Robert Wood Johnson Foundation funded grant project called "Opening Pathways" (OpeningPathways.org) to learn more about patient-led innovation and scientific discovery, and scale it in additional patient communities.


Find Dana Lewis at:
KEYNOTE
What happens when an open source community develops around a group of patients who are frustrated with their medical devices? You end up with an artificial pancreas (of course!). Dana Lewis, a founder of the open source artificial pancreas (OpenAPS) movement, discusses open source innovation in unexpected places (like healthcare) and how we can democratize data (and innovation processes) to enable more people to solve the most pressing problems in their lives.

This talk discusses:
"small changes frequently"
data/detection/refinement
net risk reduction of choosing whether to DIY diabetes
challenges & implications of personal data access and privacy.