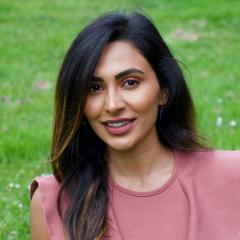 Speaker: Shwetha Nagaraja
Software Engineer @Autodesk
Shwetha Nagaraja builds robust and intuitive 3D visualization products and services. Her belief in the importance of visualization stems from her childhood, during which she found she learned more effectively from visual communication than traditional books. After attaining her computer-science bachelor's degree in Bangalore and master's degree in Boston, she moved to her current home, San Francisco, to join Autodesk as a software engineer. At Autodesk, she specializes in building highly scalable web-based software that lets customers visualize and collaboratively edit architecture, engineering, construction, and manufacturing data without the overhead of installing complex specialized software. She is known for her collaborative working style, which she feels contributes to increased efficiency and avoids redundant efforts, while encouraging social interaction and cross-pollination. She strongly believes in the importance and benefits of diversity and inclusivity in the tech industry, and for the last two years has served on the leadership team of Autodesk Women in Leadership, Autodesk's oldest and largest employee resource group, which empowers employees to achieve their full leadership potential. In her free time she enjoys dance, interior design, fashion, and keeping the pulse of popular trends on the web and throughout the world.


Find Shwetha Nagaraja at:
SESSION + Live Q&A
Viewing extremely large 2D and 3D models in the browser in real time is a difficult problem because of limited client-side computational resources, limited bandwidth, and the challenges of using JavaScript for high-performance computing. By introducing many heavily optimized techniques and strategies, Autodesk Forge Viewer is able to address these difficulties and render millions of meshes with gigabytes of memory at interactive rates.
In this session, we will explore in detail some of the most interesting of these techniques, including progressive rendering to reduce time to first pixel, geometry consolidation to reduce draw overhead, the use of flat arrays instead of objects to reduce memory-allocation and copying overhead, data alignment for fast memory access, the use of a cheaper non-photorealistic graphics style for certain effects, and CPU profiling to identify further optimization opportunities.
Real-time rendering of large models is a complex problem with many interesting facets. We have been developing Forge Viewer for five years and believe that we have found many interesting solutions from which the community can benefit.