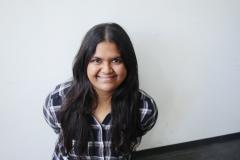 Speaker: Cindy Sridharan
Distributed Systems Engineer & runs the Prometheus user group in SF
Cindy Sridharan is a distributed systems engineer. She's the author of a book on Distributed Systems Observability with O'Reilly and the co-author of an upcoming book on distributed systems engineering in the cloud. She runs the Prometheus user group in San Francisco, has been a reviewer of several technical books and on the program committee of leading industry conferences on systems engineering. She lives in San Francisco and in her spare time enjoys hiking the gorgeous outdoors of the Bay Area, reading way too many papers and occasionally blogging about building resilient and maintainable systems.


Find Cindy Sridharan at:
PANEL DISCUSSION + Live Q&A
The discussion will be about the promises and perils of eschewing coordination in distributed systems. The panelists will cover a diverse range of opinions and use-cases (control planes, streaming engines, SQL databases, service discovery systems etc).
Moderator: Cindy Sridharan