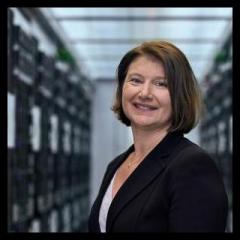 Speaker: Maria Girone
CTO @CERNopenlab
Maria has a PhD in particle physics. She also has extensive knowledge in computing for high-energy physics experiments, having worked in scientific computing since 2002. 

Maria has worked for many years on the development and deployment of services and tools for the Worldwide LHC Computing Grid (WLCG), the global grid computing system used to store, distribute, and analyse the data produced by the experiments on the Large Hadron Collider (LHC). 

Maria was the founder of the WLCG operations coordination team, which she also previously led. This team is responsible for overseeing core operations and commissioning new services.

Throughout 2014 and 2015, Maria was the software and computing coordinator for one of the four main LHC experiments, called CMS. She was responsible for about seventy computing centres on five continents, and managed a distributed team of several hundred people.


SESSION + Live Q&A
The Large Hadron Collider (LHC) at CERN is the world's most powerful particle accelerator and is one of the largest and most complicated machines ever built. The LHC has been vital in helping physicists make new discoveries such as the Higgs boson in 2012. Today, the Worldwide LHC Computing Grid regularly operates a million processor cores and nearly an exabyte of disk storage. By 2026, the successor to LHC will require 50-100 times more computing capacity and will store multiple exabytes per year.
In this talk, I will discuss the current challenges of capturing, storing, and processing the large volumes of data generated by the LHC experiments. I will also discuss our ongoing research program at CERN openlab to explore alternative approaches, including the use of commercial clouds as well as alternative computing architectures, advanced data analytics, and deep learning.
You will learn how a highly data-intensive organization can effectively take advantage of future computing improvements in both hardware and software. You will also gain some interesting insights into modern high energy physics.